Work in Progress, post number 4 (finally)
August 6th, 2010 by ZKitten
Strict Standards
: call_user_func_array() expects parameter 1 to be a valid callback, non-static method GA_Filter::the_content() should not be called statically in
/home2/zkitten/public_html/blog/wp-includes/plugin.php
on line
166
Strict Standards
: Non-static method GA_Filter::ga_parse_article_link() should not be called statically in
/home2/zkitten/public_html/blog/wp-content/plugins/google-analytics-for-wordpress/googleanalytics.php
on line
440
Strict Standards
: Non-static method GA_Filter::ga_parse_article_link() should not be called statically in
/home2/zkitten/public_html/blog/wp-content/plugins/google-analytics-for-wordpress/googleanalytics.php
on line
440
Strict Standards
: Non-static method GA_Filter::ga_parse_link() should not be called statically in
/home2/zkitten/public_html/blog/wp-content/plugins/google-analytics-for-wordpress/googleanalytics.php
on line
430
Strict Standards
: Non-static method GA_Filter::ga_get_domain() should not be called statically in
/home2/zkitten/public_html/blog/wp-content/plugins/google-analytics-for-wordpress/googleanalytics.php
on line
410
Deprecated
: Function split() is deprecated in
/home2/zkitten/public_html/blog/wp-content/plugins/google-analytics-for-wordpress/googleanalytics.php
on line
413
Strict Standards
: Non-static method GA_Filter::ga_parse_article_link() should not be called statically in
/home2/zkitten/public_html/blog/wp-content/plugins/google-analytics-for-wordpress/googleanalytics.php
on line
440
Strict Standards
: Non-static method GA_Filter::ga_parse_link() should not be called statically in
/home2/zkitten/public_html/blog/wp-content/plugins/google-analytics-for-wordpress/googleanalytics.php
on line
430
Strict Standards
: Non-static method GA_Filter::ga_get_domain() should not be called statically in
/home2/zkitten/public_html/blog/wp-content/plugins/google-analytics-for-wordpress/googleanalytics.php
on line
410
Deprecated
: Function split() is deprecated in
/home2/zkitten/public_html/blog/wp-content/plugins/google-analytics-for-wordpress/googleanalytics.php
on line
413
Strict Standards
: Non-static method GA_Filter::ga_parse_article_link() should not be called statically in
/home2/zkitten/public_html/blog/wp-content/plugins/google-analytics-for-wordpress/googleanalytics.php
on line
440
Strict Standards
: Non-static method GA_Filter::ga_parse_link() should not be called statically in
/home2/zkitten/public_html/blog/wp-content/plugins/google-analytics-for-wordpress/googleanalytics.php
on line
430
Strict Standards
: Non-static method GA_Filter::ga_get_domain() should not be called statically in
/home2/zkitten/public_html/blog/wp-content/plugins/google-analytics-for-wordpress/googleanalytics.php
on line
410
Deprecated
: Function split() is deprecated in
/home2/zkitten/public_html/blog/wp-content/plugins/google-analytics-for-wordpress/googleanalytics.php
on line
413
Strict Standards
: Non-static method GA_Filter::ga_parse_article_link() should not be called statically in
/home2/zkitten/public_html/blog/wp-content/plugins/google-analytics-for-wordpress/googleanalytics.php
on line
440
Strict Standards
: Non-static method GA_Filter::ga_parse_link() should not be called statically in
/home2/zkitten/public_html/blog/wp-content/plugins/google-analytics-for-wordpress/googleanalytics.php
on line
430
Strict Standards
: Non-static method GA_Filter::ga_get_domain() should not be called statically in
/home2/zkitten/public_html/blog/wp-content/plugins/google-analytics-for-wordpress/googleanalytics.php
on line
410
Deprecated
: Function split() is deprecated in
/home2/zkitten/public_html/blog/wp-content/plugins/google-analytics-for-wordpress/googleanalytics.php
on line
413
Strict Standards
: Non-static method GA_Filter::ga_parse_article_link() should not be called statically in
/home2/zkitten/public_html/blog/wp-content/plugins/google-analytics-for-wordpress/googleanalytics.php
on line
440
Strict Standards
: Non-static method GA_Filter::ga_parse_link() should not be called statically in
/home2/zkitten/public_html/blog/wp-content/plugins/google-analytics-for-wordpress/googleanalytics.php
on line
430
Strict Standards
: Non-static method GA_Filter::ga_get_domain() should not be called statically in
/home2/zkitten/public_html/blog/wp-content/plugins/google-analytics-for-wordpress/googleanalytics.php
on line
410
Deprecated
: Function split() is deprecated in
/home2/zkitten/public_html/blog/wp-content/plugins/google-analytics-for-wordpress/googleanalytics.php
on line
413
Strict Standards
: Non-static method GA_Filter::ga_parse_article_link() should not be called statically in
/home2/zkitten/public_html/blog/wp-content/plugins/google-analytics-for-wordpress/googleanalytics.php
on line
440
Strict Standards
: Non-static method GA_Filter::ga_parse_link() should not be called statically in
/home2/zkitten/public_html/blog/wp-content/plugins/google-analytics-for-wordpress/googleanalytics.php
on line
430
Strict Standards
: Non-static method GA_Filter::ga_get_domain() should not be called statically in
/home2/zkitten/public_html/blog/wp-content/plugins/google-analytics-for-wordpress/googleanalytics.php
on line
410
Deprecated
: Function split() is deprecated in
/home2/zkitten/public_html/blog/wp-content/plugins/google-analytics-for-wordpress/googleanalytics.php
on line
413
Strict Standards
: Non-static method GA_Filter::ga_parse_article_link() should not be called statically in
/home2/zkitten/public_html/blog/wp-content/plugins/google-analytics-for-wordpress/googleanalytics.php
on line
440
Strict Standards
: Non-static method GA_Filter::ga_parse_link() should not be called statically in
/home2/zkitten/public_html/blog/wp-content/plugins/google-analytics-for-wordpress/googleanalytics.php
on line
430
Strict Standards
: Non-static method GA_Filter::ga_get_domain() should not be called statically in
/home2/zkitten/public_html/blog/wp-content/plugins/google-analytics-for-wordpress/googleanalytics.php
on line
410
Deprecated
: Function split() is deprecated in
/home2/zkitten/public_html/blog/wp-content/plugins/google-analytics-for-wordpress/googleanalytics.php
on line
413
Strict Standards
: Non-static method GA_Filter::ga_parse_article_link() should not be called statically in
/home2/zkitten/public_html/blog/wp-content/plugins/google-analytics-for-wordpress/googleanalytics.php
on line
440
Strict Standards
: Non-static method GA_Filter::ga_parse_link() should not be called statically in
/home2/zkitten/public_html/blog/wp-content/plugins/google-analytics-for-wordpress/googleanalytics.php
on line
430
Strict Standards
: Non-static method GA_Filter::ga_get_domain() should not be called statically in
/home2/zkitten/public_html/blog/wp-content/plugins/google-analytics-for-wordpress/googleanalytics.php
on line
410
Deprecated
: Function split() is deprecated in
/home2/zkitten/public_html/blog/wp-content/plugins/google-analytics-for-wordpress/googleanalytics.php
on line
413
Strict Standards
: Non-static method GA_Filter::ga_parse_article_link() should not be called statically in
/home2/zkitten/public_html/blog/wp-content/plugins/google-analytics-for-wordpress/googleanalytics.php
on line
440
Strict Standards
: Non-static method GA_Filter::ga_parse_link() should not be called statically in
/home2/zkitten/public_html/blog/wp-content/plugins/google-analytics-for-wordpress/googleanalytics.php
on line
430
Strict Standards
: Non-static method GA_Filter::ga_get_domain() should not be called statically in
/home2/zkitten/public_html/blog/wp-content/plugins/google-analytics-for-wordpress/googleanalytics.php
on line
410
Deprecated
: Function split() is deprecated in
/home2/zkitten/public_html/blog/wp-content/plugins/google-analytics-for-wordpress/googleanalytics.php
on line
413
Strict Standards
: Non-static method GA_Filter::ga_parse_article_link() should not be called statically in
/home2/zkitten/public_html/blog/wp-content/plugins/google-analytics-for-wordpress/googleanalytics.php
on line
440
Strict Standards
: Non-static method GA_Filter::ga_parse_link() should not be called statically in
/home2/zkitten/public_html/blog/wp-content/plugins/google-analytics-for-wordpress/googleanalytics.php
on line
430
Strict Standards
: Non-static method GA_Filter::ga_get_domain() should not be called statically in
/home2/zkitten/public_html/blog/wp-content/plugins/google-analytics-for-wordpress/googleanalytics.php
on line
410
Deprecated
: Function split() is deprecated in
/home2/zkitten/public_html/blog/wp-content/plugins/google-analytics-for-wordpress/googleanalytics.php
on line
413
What happened to the Clockwork Ankh?
I've been asked that a *few* times over the past month or so..
Maybe a few more than a few times ;P
Basically, there was a combination of things, I was sick, combine with the fact that I fudged the feathers a few times (they did not pass my perfectionistness requirements) The first set was just carved on, the second as well (ok, and fourth and fifth, I did alot of re-dos, there may have been seven tries to get it right, but I stopped counting after three) the last ok set (before the total redo) was made of the last ok set, but with a cut between each feather, to give it a more feathered look, but it still wasn't good enough. It just didn't have the look I wanted.
TL. Still Attached
TR. One of the earlier Re-Dos
BL. Another Earlier Re-Do
BR. Last Poopy Re-Do
So, I had to do a re-do times 2 (plus some) and realizing that trying to do all the feathers at once wasn't working, I ended up doing the feathers individually (which may have been re-do 2 times three, or four) and that worked. And voila!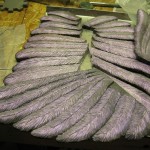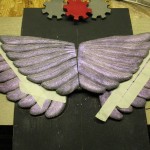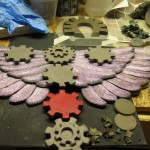 1. the basic building blocks of feathers; 2. pre-cure
3. making sure they don't move around; 4. ready to assemble


Now, I that I had all the pieces done, everything was ready to go…. and the person I'm making it for didn't know what color/s they wanted. *head desk*
Soooooo.. I started working on mini sized color samples in the same style as the large piece. The little rectangles are about 4″x3″ and I think they're so cute, I'm looking for shadow boxes they'll fit, cause I think they'd make great little pieces of wall art ;D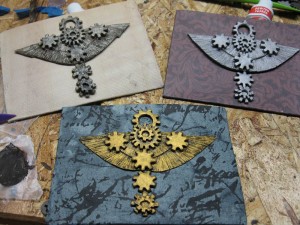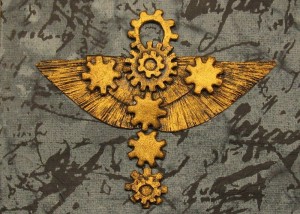 Left- White/Pewter/Gold Samples; Right- Closeup of Gold Sample
then I also decided that I might as well have some other styles, cause the little ones could do alot more, one example, different styled wings


about one inch by one and a half inches
Right now, I'm still working on more color samples, along with more of the little sample sizes with the new style wings and in other configurations.. I'll have more as I get them done. I swear, I'll try to make sure it's not another month plus between posts!
Posted in Photos, Works In Progress