Continuation of Work In Progress
June 7th, 2010 by ZKitten
Strict Standards
: call_user_func_array() expects parameter 1 to be a valid callback, non-static method GA_Filter::the_content() should not be called statically in
/home2/zkitten/public_html/blog/wp-includes/plugin.php
on line
166
Strict Standards
: Non-static method GA_Filter::ga_parse_article_link() should not be called statically in
/home2/zkitten/public_html/blog/wp-content/plugins/google-analytics-for-wordpress/googleanalytics.php
on line
440
Strict Standards
: Non-static method GA_Filter::ga_parse_article_link() should not be called statically in
/home2/zkitten/public_html/blog/wp-content/plugins/google-analytics-for-wordpress/googleanalytics.php
on line
440
Strict Standards
: Non-static method GA_Filter::ga_parse_link() should not be called statically in
/home2/zkitten/public_html/blog/wp-content/plugins/google-analytics-for-wordpress/googleanalytics.php
on line
430
Strict Standards
: Non-static method GA_Filter::ga_get_domain() should not be called statically in
/home2/zkitten/public_html/blog/wp-content/plugins/google-analytics-for-wordpress/googleanalytics.php
on line
410
Deprecated
: Function split() is deprecated in
/home2/zkitten/public_html/blog/wp-content/plugins/google-analytics-for-wordpress/googleanalytics.php
on line
413
Strict Standards
: Non-static method GA_Filter::ga_parse_article_link() should not be called statically in
/home2/zkitten/public_html/blog/wp-content/plugins/google-analytics-for-wordpress/googleanalytics.php
on line
440
Strict Standards
: Non-static method GA_Filter::ga_parse_link() should not be called statically in
/home2/zkitten/public_html/blog/wp-content/plugins/google-analytics-for-wordpress/googleanalytics.php
on line
430
Strict Standards
: Non-static method GA_Filter::ga_get_domain() should not be called statically in
/home2/zkitten/public_html/blog/wp-content/plugins/google-analytics-for-wordpress/googleanalytics.php
on line
410
Deprecated
: Function split() is deprecated in
/home2/zkitten/public_html/blog/wp-content/plugins/google-analytics-for-wordpress/googleanalytics.php
on line
413
Strict Standards
: Non-static method GA_Filter::ga_parse_article_link() should not be called statically in
/home2/zkitten/public_html/blog/wp-content/plugins/google-analytics-for-wordpress/googleanalytics.php
on line
440
Strict Standards
: Non-static method GA_Filter::ga_parse_link() should not be called statically in
/home2/zkitten/public_html/blog/wp-content/plugins/google-analytics-for-wordpress/googleanalytics.php
on line
430
Strict Standards
: Non-static method GA_Filter::ga_get_domain() should not be called statically in
/home2/zkitten/public_html/blog/wp-content/plugins/google-analytics-for-wordpress/googleanalytics.php
on line
410
Deprecated
: Function split() is deprecated in
/home2/zkitten/public_html/blog/wp-content/plugins/google-analytics-for-wordpress/googleanalytics.php
on line
413
Strict Standards
: Non-static method GA_Filter::ga_parse_article_link() should not be called statically in
/home2/zkitten/public_html/blog/wp-content/plugins/google-analytics-for-wordpress/googleanalytics.php
on line
440
Strict Standards
: Non-static method GA_Filter::ga_parse_link() should not be called statically in
/home2/zkitten/public_html/blog/wp-content/plugins/google-analytics-for-wordpress/googleanalytics.php
on line
430
Strict Standards
: Non-static method GA_Filter::ga_get_domain() should not be called statically in
/home2/zkitten/public_html/blog/wp-content/plugins/google-analytics-for-wordpress/googleanalytics.php
on line
410
Deprecated
: Function split() is deprecated in
/home2/zkitten/public_html/blog/wp-content/plugins/google-analytics-for-wordpress/googleanalytics.php
on line
413
Strict Standards
: Non-static method GA_Filter::ga_parse_article_link() should not be called statically in
/home2/zkitten/public_html/blog/wp-content/plugins/google-analytics-for-wordpress/googleanalytics.php
on line
440
Strict Standards
: Non-static method GA_Filter::ga_parse_link() should not be called statically in
/home2/zkitten/public_html/blog/wp-content/plugins/google-analytics-for-wordpress/googleanalytics.php
on line
430
Strict Standards
: Non-static method GA_Filter::ga_get_domain() should not be called statically in
/home2/zkitten/public_html/blog/wp-content/plugins/google-analytics-for-wordpress/googleanalytics.php
on line
410
Deprecated
: Function split() is deprecated in
/home2/zkitten/public_html/blog/wp-content/plugins/google-analytics-for-wordpress/googleanalytics.php
on line
413
Strict Standards
: Non-static method GA_Filter::ga_parse_article_link() should not be called statically in
/home2/zkitten/public_html/blog/wp-content/plugins/google-analytics-for-wordpress/googleanalytics.php
on line
440
Strict Standards
: Non-static method GA_Filter::ga_parse_link() should not be called statically in
/home2/zkitten/public_html/blog/wp-content/plugins/google-analytics-for-wordpress/googleanalytics.php
on line
430
Strict Standards
: Non-static method GA_Filter::ga_get_domain() should not be called statically in
/home2/zkitten/public_html/blog/wp-content/plugins/google-analytics-for-wordpress/googleanalytics.php
on line
410
Deprecated
: Function split() is deprecated in
/home2/zkitten/public_html/blog/wp-content/plugins/google-analytics-for-wordpress/googleanalytics.php
on line
413
Strict Standards
: Non-static method GA_Filter::ga_parse_article_link() should not be called statically in
/home2/zkitten/public_html/blog/wp-content/plugins/google-analytics-for-wordpress/googleanalytics.php
on line
440
Strict Standards
: Non-static method GA_Filter::ga_parse_link() should not be called statically in
/home2/zkitten/public_html/blog/wp-content/plugins/google-analytics-for-wordpress/googleanalytics.php
on line
430
Strict Standards
: Non-static method GA_Filter::ga_get_domain() should not be called statically in
/home2/zkitten/public_html/blog/wp-content/plugins/google-analytics-for-wordpress/googleanalytics.php
on line
410
Deprecated
: Function split() is deprecated in
/home2/zkitten/public_html/blog/wp-content/plugins/google-analytics-for-wordpress/googleanalytics.php
on line
413
Strict Standards
: Non-static method GA_Filter::ga_parse_article_link() should not be called statically in
/home2/zkitten/public_html/blog/wp-content/plugins/google-analytics-for-wordpress/googleanalytics.php
on line
440
Strict Standards
: Non-static method GA_Filter::ga_parse_link() should not be called statically in
/home2/zkitten/public_html/blog/wp-content/plugins/google-analytics-for-wordpress/googleanalytics.php
on line
430
Strict Standards
: Non-static method GA_Filter::ga_get_domain() should not be called statically in
/home2/zkitten/public_html/blog/wp-content/plugins/google-analytics-for-wordpress/googleanalytics.php
on line
410
Deprecated
: Function split() is deprecated in
/home2/zkitten/public_html/blog/wp-content/plugins/google-analytics-for-wordpress/googleanalytics.php
on line
413
So, obviously, just what the subject says, a continuation. This one with a little dialog on what I'm doing. First off, I'm using polymer clay, a mix of types. Since I covered the sketch with clay, I took one of the previous photos, snipped out the sketch, straighted it, and printed it up as a visual reference. Once I had a base layer of clay on, I sketched & cut out some gear templates, just cause it's easier to make it all match like that, then try to free hand all of them, and still make it all even.
↓base layer of clay on, checking layout with a few clay pieces & one of the paper templates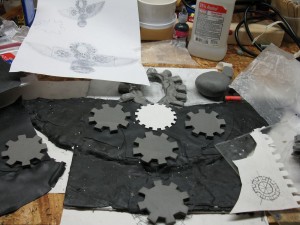 ↓another layout check, this time with most of the clay bits, all laid out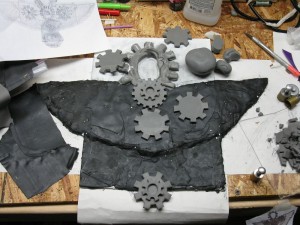 ↓took all the gears off, and got a thicker even layer for the wings, using wax paper to try to keep it as even as possible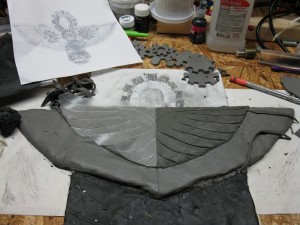 ↓wing segments drawn in, along with detail started on top left feathers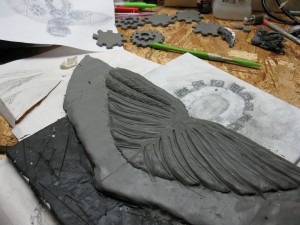 ↓most of the top left feathers done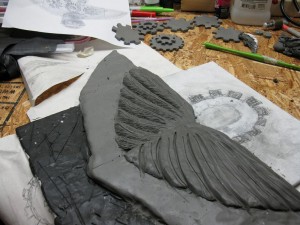 ↓all the feathers done (except for the top two)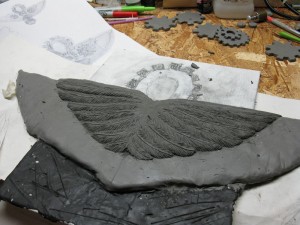 ↓ showing the detail in the feathers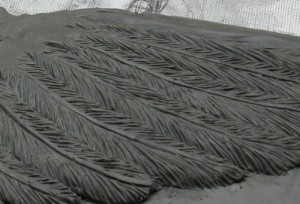 ↓with the gear pieces to check how it's all pulling together, make sure it's correct & all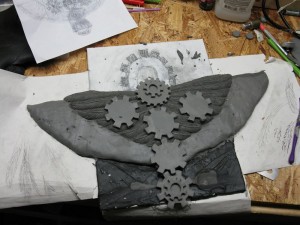 That was all done between about 3ish am and 9am (I say 3ish, as I didn't check a clock on my way back out)
Going back out to the studio now to work on the bottom layer of feathers, then to tackle the top gear segment & see how it pulls together, then there's the thinking on what to do about the background.
Posted in Blog